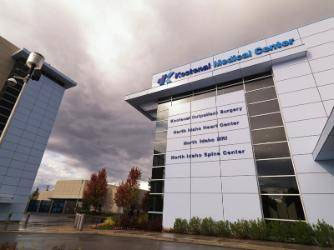 Coeur d'Alene and the Inland Northwest are home to some of the world's most renowned hospitals and healthcare systems. Locally, one can find access to the region's only Open MRI at the CDA Spine Imaging Center, as well as renowned Cancer therapy at Kootenai Medical Center located in the center of Coeur d'Alene. Healthcare options are endless in Coeur d'Alene and if you can't find what you need, journey just 30 minutes down I-90 to Spokane where Sacred Heart Medical Center & Children's Hospital will surely have what you need.
2003 Lincoln Way
Coeur d'Alene, Idaho 83814
Telephone: (208) 666-2000
Community owned
246-bed facility
Serving North Idaho since 1967
Emergency medicine
Intensive care
Full-service surgical services
Rehabilitation
Cancer therapy
Extended care
Psychiatric, behavioral medicine, substance abuse assistance
200 physicians
Northern Idaho Advanced Care Hospital
600 N. Cecil
Post Falls, Idaho 83854
Telephone: (208) 262-2800
Long term acute rehabilitation care to patients recovering from strokes, head and spinal cord injuries, and other functional deficiencies as a result of injury or illness
800 West Fifth Avenue
Spokane, Washington 99204
Telephone: (509) 458-5800
Acute care hospital
Fully accredited by the Joint Commission on Accreditation of Healthcare Organizations (JCAHO)
Level II Trauma Center with 388 licensed beds
Providence Sacred Heart Medical Center and Children's Hospital
101 W 8th Ave
Spokane, Washington 99204
623 beds
One of the largest hospitals in the Northwest
Employs 4,000 health care professionals and support staff
Expertise and skills of more than 800 specialists and primary care doctors
Wide array of medical services and treatments
Works collaboratively with other hospitals and organizations in the Spokane area
Providence Holy Family Hospital
5633 N. Lidgerwood
Spokane, Washington 99208
Telephone: (509) 482-0111
Acute care facility
Full range of medical and surgical services
Specialty support and outpatient services
Spokane Veterans Affairs Medical Center
4815 N. Assembly St
Spokane, Washington 99205
Telephone: (509) 434-7000
Toll-free: (800) 325-7940
The Spokane VA Medical Center serves veterans in northeast Washington in its main medical center and in three community-based outpatient clinics.
Shriners Hospital for Children
911 W. 5th Ave.
Spokane, Washington 99204
Telephone: (509) 455-7844
Pediatric specialty care
Research and teaching programs
System-wide 22 hospitals provide care for thousands of kids with:

orthopaedic conditions
burns
spinal cord injuries
cleft lip and palate

Family-centered environment at no charge
Helping kids defy the odds since 1922