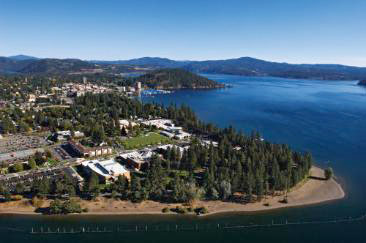 Coeur d'Alene Area Education
The Coeur d'Alene School District 271 serves 10,300 students with its two high schools, three middle schools, an alternative high/middle school, a dropout retrieval school and 10 elementary schools. The district has a dedicated staff of 550 teachers, 47 administrators and 552 support personnel to provide quality education for the Coeur d'Alene, Hayden and Dalton communities. All schools are accredited and two high schools and one middle school have merit status.
District staff and students have received numerous state and regional awards. Those include a Student Council of Excellence award for Lake City High School and a second place School of Excellence award for Coeur d'Alene high School from the Idaho High School Activities Association. The District is especially proud to be home of five of the past 10 Idaho Teachers of the Year. For the 11th year, the District has received a "What Parents Want" designation from SchoolMatch, a national family relocation business.
District 271 provides myriad learning and enrichment opportunities to help students meet Idaho's Performance Standards. In addition to numerous Honors and Advanced Placement courses, Coeur d'Alene and Lake City High Schools began offering the International Baccalaureate Diploma Program, and two of the elementary schools are implementing the IB Primary Years Program.
District 271 students who qualify are also eligible for dual enrollment with North Idaho College and advanced technical and specialized courses at Riverbend Professional Technical Academy in Post Falls.
A partnership with the City of Coeur d'Alene Police Department provides five School Resource Officers. Through an alliance with Kootenai Medical Center, the District is served by seven school nurses.
Higher Education
North Idaho Education
Within a short drive one can find several nationally-acclaimed higher education institutions. Coeur d'Alene is home to North Idaho College and Lewis and Clark State College which are set on the scenic shores of Lake Coeur d'Alene.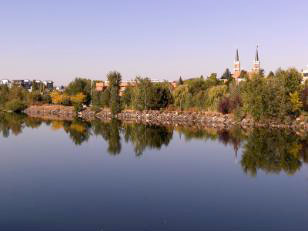 Gonzaga University
A short drive to Spokane and one can be immersed in the Jesuit tradition at Gonzaga University.Gonzaga College started in 1881 with $936 in hard silver dollars. It bought Gonzaga's founder, Father Joseph Cataldo, S.J., 320 acres of land and water, what people then referred to as "the old piece of gravel near the falls." Six years later, the College officially opened the doors of its only building for "young Scholastics, whose ambition it is to become priests." Exclusively for boys, the College was under the charge of the Jesuit priests. Enrollment for the 1887-88 academic year was 18 boys and young men.
Today, it is known as Gonzaga University, a private, four-year institution of higher education. More than 105 buildings dot the 131-acre campus overlooking the Spokane River. Students include both women and men, who can enroll in a multitude of undergraduate or graduate programs. Enrollment for the 2007-08 academic year was 6,923 students.
Whitworth University
Just north if Spokane is home to Whitworth University. Since 1890, Whitworth has held fast to its founding mission of providing "an education of mind and heart" through rigorous intellectual inquiry guided by dedicated Christian scholars. Recognized as one of the top regional colleges and universities in the West, Whitworth University has an enrollment of 2,700 students and offers 55 undergraduate and graduate degree programs. Under the strong leadership of President William P. Robinson, Whitworth enjoys record levels of student enrollment and retention, the strongest financial position in the university's history, and increased external visibility.
Whitworth University's 200-acre campus of red-brick buildings and tall pines offers a beautiful, inviting and secure learning environment. Update: More than $83 million in campus improvements have been made over the past decade, including a new center for the visual arts, a landmark general academic building, three new residence halls and several outdoor athletics facilities. Construction is under way for a new science facility that is slated to open in fall 2011.