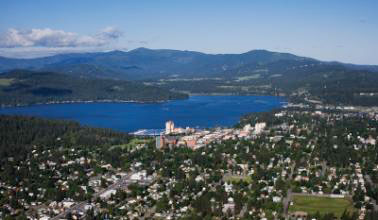 North Idaho and the Inland Northwest are blessed by some of the most spectacular natural scenery available anywhere in the country. Mountains, forests, lakes and rivers have shaped this landscape into a place of stunning, ever changing beauty.
Human activity has brought improvements of a different nature. The juxtaposition of natural features and man-made amenities makes this region a very comfortable place to live and play.
Tucked away in the heart of it all.
Coeur d'Alene is conveniently situated near the major metropolitan area of Spokane, Washington, a community of over 400,000 people just 30 miles away. Interstate 90 takes you to this thriving area, whose international airport is just 30 minutes from Coeur d'Alene. Spokane offers premium dining and shopping, with major retailers such as Nordstrom and fashionable, renovated downtown centers such as River Park Square, Bennet Block and Steam Plant Square. Spokane also has excellent hospitals, medical clinics and two major universities that all contribute to the high quality of life.
Within 100 miles:
32 golf courses
75 lakes
4 major ski areas
3 national forests
2 airports
The Coeur d'Alene Resort with its world famous floating green
Boating and inexhaustible water sports, fishing, hunting, hiking, fine shopping and dining, opera house, sports stadium and arena, and so much more.
Enjoy Everything Coeur d'Alene has to Offer
Nature is literally at your doorstep in Coeur d'Alene and is easy to access by an endless number of trails and paths for walking or mountain biking. Nearly everything is accessible by foot in Coeur d'Alene, from great restaurants to healthcare. And venturing farther is also easy. Interstate 90 offers a short, 30-minute drive to Spokane International Airport in one direction and the Montana border just 45 minutes in the other.
Coeur d'Alene is home to North Idaho College, the University of Idaho Outreach Center, an annual Art on the Green, a famous lighted holiday parade, the Coeur d' Alene Ironman triathalon, and many more amenities that make it a very special place to live.
What People are Saying About Coeur d'Alene
Coeur d'Alene offers a relaxing getaway whose serenity is shattered only by each seagull's cry. Playground indeed; it's a naturalist's Romper Room.  – USA TODAY
Whether it's fishing, cruising, wildlife watching, camping or entertaining hopes of seeing the dramatic Northern Lights, Coeur d'Alene has it all. No matter how many times you visit, you'll never tire of it.  – BOATING WORLD MAGAZINE
Please visit the Coeur d'Alene Visitor's Bureau for more information about the city, events, and things to do while you are here.